If you want to give clean water filters to anyone who needs to filter unsafe water, then this may be the most important website you'll ever find.
One reason is because you'll be able to help two, to three, times the number of people for every dollar spent when you purchase the PEACEFilter from Affordable Human Needs.
More about that in a minute.
The Problem Of Unsafe Water Afflicts Millions Of People.
844 million people don't have clean water. (WHO/UNICEF Joint Monitoring Programme (JMP) Report 2017)
Every minute a newborn dies from infection caused by lack of safe water and an unclean environment. (WHO, 2015)
If everyone, everywhere had clean water, the number of diarrheal disease deaths would be cut by a third. (Tropical Medicine and International Health, 2014)
The United Nations states that 4,000 children die each day as a result of diseases caused by ingestion of filthy water, and four out of every 10 people in the world, especially in Africa and Asia, do not have clean water to drink.
Half of the hospital beds in sub-Saharan Africa are filled with people suffering from what are generally known as water-related diseases. (Rose George, British Journalist | Author)
Unsafe water is responsible for filling hospitals, robbing the poor of time they need to provide for their families and preventing children from going to school to learn what they need to know to help them build better lives.
You can help rid the world of problems caused by unsafe water because most of the sickness and death due to unclean water is PREVENTABLE!
What if the people represented by the horrific statistics above had a way to transform water with waterborne diseases into clean, safe water for drinking, food preparation, bathing and more?
Here's The Affordable Solution To Combatting Waterborne Disease and Providing Clean Water Filters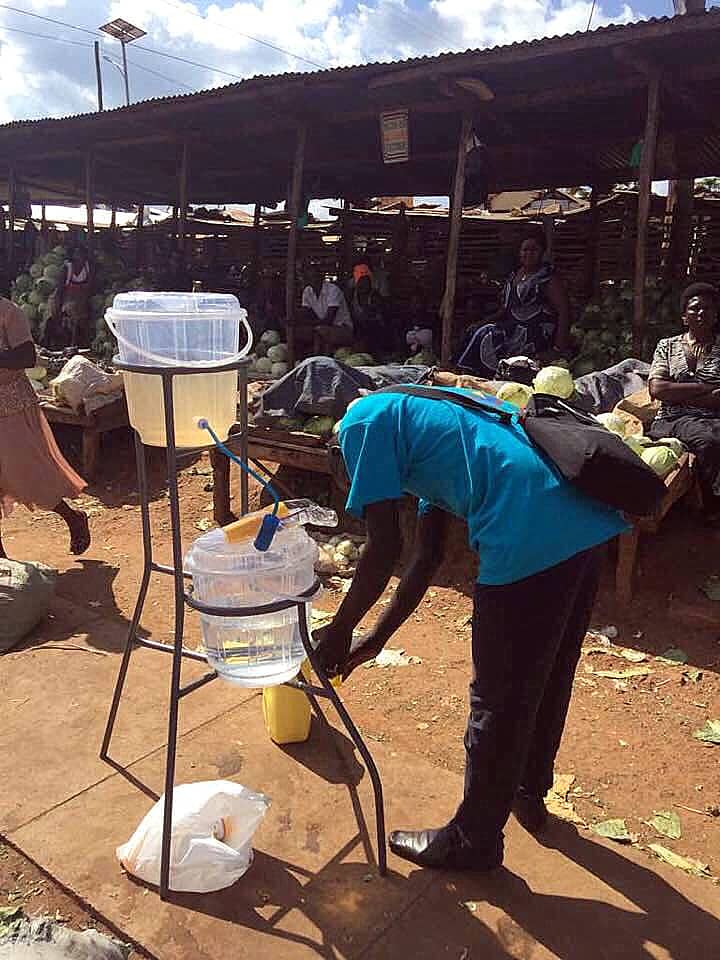 It's called the PEACEFilter, and it's a new and affordable clean water filter that removes harmful bacteria and protozoa, which goes a long way to preventing the devastating effects of waterborne disease.
Here's what the filter does to make dirty water safe and clean.
It removes various harmful bacteria, protozoa and parasites that cause serious health problems like cholera, botulism, typhoid, diarrhea, abdominal cramps, hemorrhagic colitis, meningitis, high fever and more. It also removes sediment.
Here are some of the most harmful water contaminants that are removed by the new PEACEFilter.
Pathogen Coliforms / Escherichia coli
Cryptosporidium / Serratia marcescens
Giardia / Micrococcus luteus
Vibro cholera
Salmonella typhosa
The PEACEFilter was tested and validated by an independent agency in the United States to filter out items larger than 0.1 microns, thus removing certain bacteria, protozoa and parasites.
Actual results proved that the PEACEFilter actually surpassed the target reduction of 6 log units, or 99.9999%, for each of the test organisms.
See the test result and manufacturing certification reports here.
When combined with good hygiene and sanitation practices, the PEACEFilter is one of the most effective and affordable ways to overcome the death and suffering caused by dangerous waterborne diseases.
NOTE: This 0.1 micron filter, like those of our competitors, does NOT remove chemicals or virus.
The PEACEFilter Is Manufactured To High-Quality Clean Water Standards
The PEACEFilter is a tough and durable water filter, and it's built to last for several years with proper maintenance, which is quick and easy to do.
The Hollow Fiber UF Membrane Material used in the PEACEFilter is manufactured by an American supplier with numerous in-process and final product inspections and tests in place.
NSF International and SGS, both internationally recognized inspection firms, certify the performance of the PEACEFilter.
The Hollow Fiber UF Membrane material is fabricated into the PEACEFilter with a complete set of quality inspections and tests including, but not limited to, the membrane material, membrane pore size, membrane fiber accuracy control, sealing control, and many others.
High-quality materials and workmanship go into each PEACEFilter we produce.
Independent laboratories and government agencies inspect the finished product to exacting standards.
The PEACEFilter Is Priced To Help 2X – 3X More People Than Comparable Water Filter Kits
Let's do the math.
Comparable water filter kits are sold from $30 to $49 per kit (plus shipping). The PEACEFilter is affordably priced at just $15 per kit (plus shipping).
That means that other brands selling clean water filter kits comparable to the PEACEFilter cost 200% to 327% of the AHN PEACEFilter price (at the time this was written).
So, the PEACEFilter will help you provide clean water to double, or triple, the number of people for the same amount of money when compared to other water filter brands.
And that's a conservative estimate!
How do we do it?
First, we use our internal Component Validation Process (CVP) to make sure we include things that add true value to our water filter kits and exclude things that drive up costs.
For instance, you won't find us adding a drill bit to every water filter kit because it's just not necessary, and it drives up costs.
Another money waster is fancy, expensive packaging. We focus on what brings real value to the end user, not unnecessary aesthetic concerns.
Our minimum order for our clients is 1,000 clean water filter kits, and we pass a big saving along to our clients because of long-run production efficiencies.
Finally, Affordable Human Needs is a privately-owned company with low overhead.
We don't have to worry about pleasing shareholders looking for a big return on their investment, or bearing the financial burden of big fancy buildings and inflated expense accounts.
We are not driven by high profit margins.
Our goal is to help as many people as we can to live healthier, more productive lives so they can take better care of families and their communities.
Where the PEACEFilter is concerned, we actually added two things you won't see in other clean water filters.
A protective pre-filter screen on the front end of the tubing, which guards against the larger impurities from entering the filter. That protects the inner workings of the water filter and adds longer life to it.
A spigot, which allows for easy dispensing of clean water from a second bucket to keep the clean water from contamination, which can happen when dipping something into the clean water to distribute it.
Solving clean water issues transforms the lives of the affected, and Affordable Human Needs wants to be a big part of that effort… worldwide.
The Economics Of The PEACEFilter Clean Water Kit
The cost of our clean water filters is $15.
It's estimated to last for at least three to four years (we think it will last much longer with proper care and our exclusive pre-filter screen feature).
So, that's about $5 per year, or less than 1.4 cents per day for an entire family.
No other clean water filter kit like the PEACEFilter can match that.
That means you can help a big family in need of clean water for about the price of one cup of a premium coffee per year.
Just $5 per year can provide a family of six people (or more) with clean, safe, healthy water for a year!
IMPORTANT NOTE
Our cost of $15 per PEACEFilter kit is for the kit only – FOB AHN factory.
Any additional cost such as shipping or an import tax or fee will be the responsibility of the purchaser of the PEACEFilter, not AHN.
How Much Clean Water The PEACEFilter Provides Each Day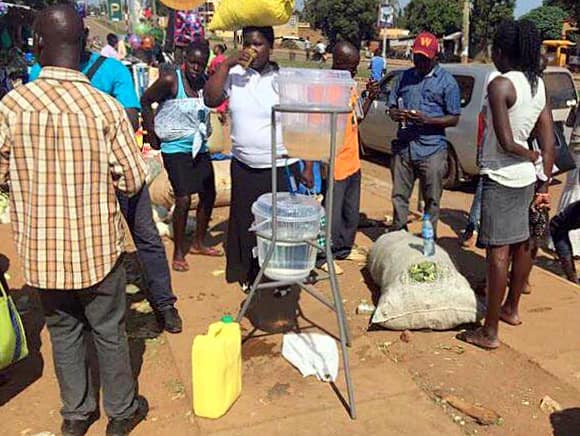 The average flow rate for the PEACEFilter is about 45 liters per hour (roughly 12 gallons per hour).
NOTE: The flow rate for clean water filters varies due to factors such as altitude, water pressure (due to the distance from the top of the water to the filter) and how clean the filter is maintained.
Doing the math, that's easily more than 250 gallons of clean water per day, and maintaining the filter by back flushing it only takes a few minutes.
That's more than enough water for the average family in the areas most likely to need clean water filters.
What's Included In Your PEACEFilter Clean Water Filters
Here's a list of what you'll get for $15 in your PEACEFilter kit.
Clean Water Filter – 0.1 micron absolute
Hose with exclusive pre-filter screen
Filter cleaner (syringe to maintain and back flush the filter)
Metal filter hanger (when not in use)
Filter cap (when not in use)
Spout (for water storage bucket when used for a two-bucket system)
Full instructions
NOTE: buckets not included
How The PEACEFilter Produces Clean Water
The PEACEFilter uses a simple gravity-based filtration process.
You'll get everything needed to create either a one bucket or two bucket clean water system.
For a two-bucket system, once you've assembled the system, one bucket that contains the dirty water is placed above the other bucket that stores the clean water. Then gravity does the rest of the work.
For a one-bucket system simply place the empty vessel you want to fill with clean water below the filter attached to the bucket with the dirty water.
You'll get a flow rate of about one liter per minute (3.8 liters per gallon).
The PEACEFilter system is easy to assemble by hand in just a few minutes once the holes are drilled.
NOTE: Like other comparable clean water filter kits, buckets are not included.
Once the water is flowing from the filter, it's instantly usable for many purposes including:
Drinking
Cooking
Bathing
Cleaning
Water for pets and livestock
Watering plants
Here's Your Next Step To Helping Provide Clean Water Anywhere In The World
You can contact an Affordable Human Needs representative by using the form on the Contact page.
Summary Points
Converts 2 plastic buckets into a water filtration system (can also be used for a one bucket system)
Removes bacteria and parasites
Removes sediment
Filter designed to block items larger than 0.1 micron (absolute)
Works for years if properly maintained
Filters approximately 1 liter per minute
Easy to use
Easy to maintain
Requires no electricity
No replacement parts
Shipped anywhere in the world