Click video for overview.
If you're looking for an eco-friendly, and extremely affordable, building method for homes, schools and other types of structures, earthbag technology should be at the top of your list.
This innovative building approach uses nothing more than simple materials like soil, sand, barbed wire, plaster and woven polypropylene bags to create sturdy and environmentally-friendly structures.
There are many benefits to using earthbag technology, especially for communities that have limited resources.
This proven method has been a game changer in developing countries where structures need to be disaster resilient, versatile and practical.
Let's take a look at what earthbag technology is, the benefits and advantages of earthbag technology and why it's a viable option for durable and affordable housing.
What is Earthbag Technology?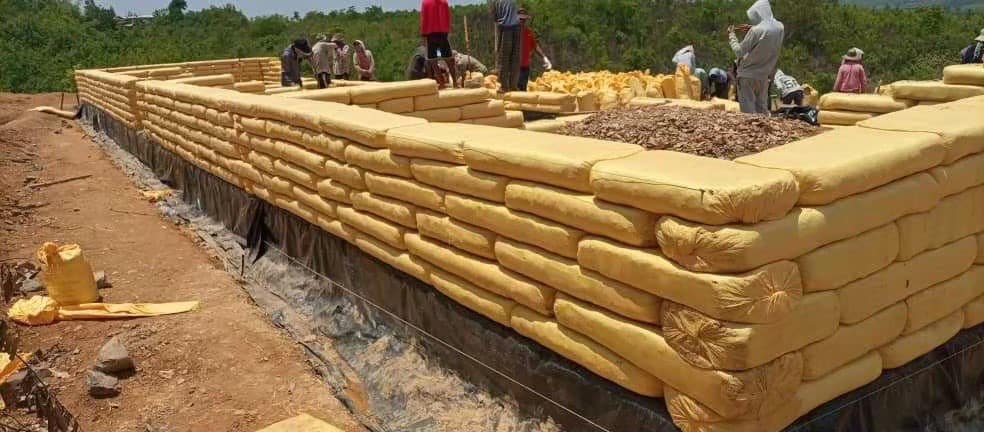 Earthbag technology is a sustainable building method that involves filling strong woven polypropylene bags with soil, or other natural materials, and stacking them to create walls for a building.
This method is known for being affordable, durable, and eco-friendy.
The bags are typically made of woven polypropylene, and are secured in place using barbed wire or other means.
Earthbag technology can be used to construct a wide range of buildings including homes, schools, community centers, and other structures. It's particularly popular in areas where traditional building materials are scarce or expensive.
Why You Should Consider Earthbag Technology
There are many benefits of earthbag technology that make it a compelling option for anyone interested in sustainable and affordable housing.
Here are some of the things that people take into account when they choose this option. See how many of them would be solutions to the problems you're trying to address with your building projects.
Affordability
Earthbag technology is relatively inexpensive compared to traditional building methods, making it accessible to low-income families and communities.
Disaster Resistance
Earthbag structures are resistant to natural disasters such as earthquakes and hurricanes making them ideal for areas prone to these types of problems.
Fire Resistance
Earthbag structures are naturally fire-resistant because the soil-filled bags and plaster finishes do not easily catch fire. That will also help to prevent fires from spreading.
Low Maintenance
Earthbag buildings require minimal maintenance, as the walls are naturally resistant to pests, rot, and decay.
Durability
Earthbag buildings are resilient to wear and tear, which means they can last for decades. The structures are strong and durable and can be designed to be earthquake-resistant. Dome earthbag structures are also less likely to collapse during hurricanes and tornadoes.
Flexibility
Earthbag technology is adaptable to different building shapes and sizes, making it suitable for a variety of purposes, including homes, schools, and community buildings.
Speed of Construction
Earthbag construction is relatively fast because the bags are easy to stack and can be built by unskilled labor with little training.
Scalability
Earthbag technology can be scaled up or down depending on the size and complexity of the building. That makes it suitable for a range of projects from small homes to large community structures.
Sound Insulation
Earthbag walls have excellent sound insulation properties, which can help to create a quiet and peaceful indoor environment.
Thermal Insulation (Energy Efficient)
Earthbag walls have high thermal mass, which means they can help regulate indoor temperatures. That helps reduce the need for ways to heat and cool a building, which can be expensive.
It must be noted that thermal mass works well in a desert environment, but it's not as good for a cold climate. The reason being that the mass of the earthbags do not have great insulating properties, so it would be best if you added insulation in cold environments.
Eco-friendly
Earthbag construction only requires minimal resources, and produces very little waste. It uses locally sourced materials, and doesn't need as much energy to manufacture and transport other building materials.
Aesthetics
Earthbag buildings have a unique and natural look that can be customized with finishes such as plaster, paint, or stonework, which allows for a range of creative designs.
Resistance to Pests
Earthbag walls are naturally resistant to pests such as termites, rodents, and insects because they do not contain wood, or other materials, that attract these pests.
Health Benefits
Unlike some traditional building materials, earthbags do not emit harmful chemicals or pollutants, which can make them a healthier, and safer, option for homes and communities.
Community Building & Self Sufficiency
The construction of earthbag buildings can help promote tight-knit communities because the locals can all pitch in and pull together to build their homes and community buildings. Working together like this also shows them they can be self sufficient.
Cultural Preservation
Earthbag construction can help to preserve traditional building techniques and cultural practices because it can incorporate local building traditions and materials.
Low Carbon Footprint
Earthbag construction has a low carbon footprint due to the locally sourced materials and minimal waste.
Energy Independence
Earthbag buildings can be designed to incorporate renewable energy sources, such as solar panels, which can help to reduce dependence on fossil fuels and promote energy independence.
Overall, earthbag technology offers numerous benefits that make it a sustainable, and practical, building method. It can help to address the housing and infrastructure needs of communities in countries all around the world while providing safe housing that's affordable and environmentally friendly.
How AHN Can Help You With Earthbag Technology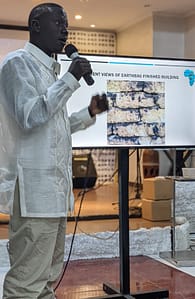 AHN will help you facilitate your earthbag technology project, but we do not design your buildings or do the building ourselves.
We will sponsor qualified trainers to build demonstration projects and train local builders. We'll also evaluate proposed projects to determine the likelihood of a successful technology transfer.
AHN can also help by coordinating the interaction of local builders with the earthbag trainers, and assist with financing projects to make them more accessible.
We prefer to work on projects where we have the cooperation of local government officials, architects, engineers and developers. Universities can also make good partners.
Where AHN Has Sponsored Earthbag Technology Demonstrations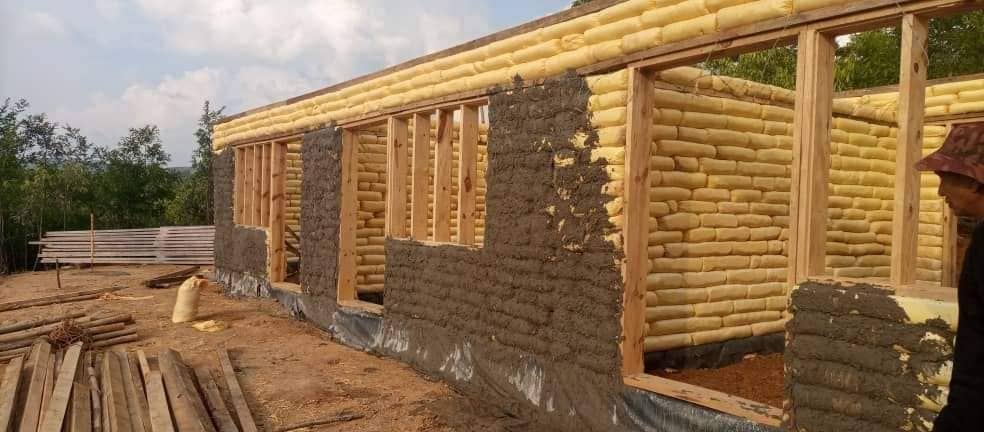 AHN has been working in the following countries, but we're looking to expand to anywhere in the world where we can find like-minded  partners.
India
Philippines
Rwanda
Taiwan
Uganda
In Uganda earthbag technology was picked up by a local developer who has been building large scale earthbag communities.
Your Next Step
Do you know of a high ranking government official, housing developer or university in a developing country that is interested in earth bag building technology?
If they would like to participate in an earthbag demonstration project. Let us know the details.
Our demonstration buildings are typically around 1000 square feet or less.
Just so you know, AHN does not sponsor the entire cost of the demonstration building or pay for the land. We will pay for the cost of the trainer for a set period of time and contribute to the cost of the demonstration building.
If the receiving country is well prepared the buildings are often built in about a month.
For more information about how we may be able to work together, use the contact form on this website to get in touch with us.
The Future
Earthbag technology is a great solution for communities that need a way to construct sturdy buildings like homes and schools, but lack the resources required for traditional building methods.
From its cost-effectiveness and flexibility to its durability and eco-friendly nature, earthbag technology provides a sustainable and practical solution to address the challenges facing many communities that don't have abundant resources.
Not only does earthbag technology offer safe and affordable housing, it also promotes self-sufficiency and contributes to environmental preservation.
There's one other thing that earthbag technology can bring to a community: Hope.
That's a priceless gift we should pass down to the next generation all around the world!