The Problems With Kerosene Lamps
Millions of schoolchildren around the world are at a huge disadvantage when trying to get an education.
They rely on kerosene lamps to provide the light they need to read and write while they do their homework.
But the use of kerosene lamps brings many health and safety risks along with it.
From a practical standpoint the light from a kerosene lamp is dim and strains the eyes.
Where health is concerned, the toxic gases from the lamps cause respiratory problems, including asthma, that reduce lung function, eye irritation and skin problems. These gases also increase the risk of tuberculosis, cancer and so many other health issues.
There have also been findings that associated the use of household kerosene with low birth weight, and childhood pneumonia.
From a safety standpoint kerosene lamps are a huge fire hazard. They are easy to knock over and accidental poisoning is still a relatively common occurrence.
When you combine the other household uses for kerosene lamps like cooking, cleaning and caring for children, the ill effects of burning kerosene are a huge risk for a family.
Kerosene lamps are not the answer as a source of lighting, they are a very big part of the problem.
Here's a video produced by a government official in the Gulu district of Uganda. It tells about the problem of using kerosene lamps (first part of the video).
The Affordable Solution To The Kerosene Lamp Problem
It's called the PEACELight, and there are two versions.
These solar powered lights are a proven solution to all the problems caused by kerosene lamps.
With solar generated electricity as the main source of power, there are no longer any of the health or safety risks you get with a kerosene lamp.
PEACELight Model PL-1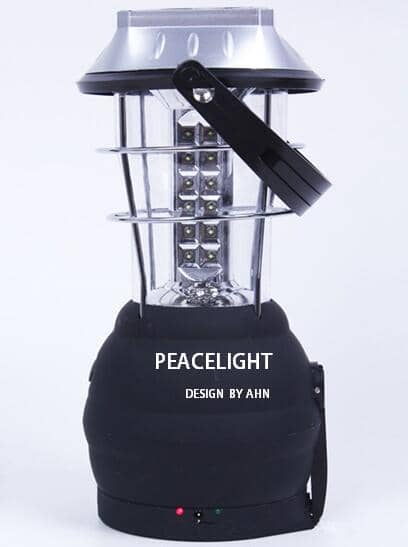 The PL1 model is suggested for emergency situations.
Eye strain is also a thing of the past because when the PL1 model is used on the high setting it provides 240 lumens of brightness and 120 lumens on the low setting.
Having two settings for brightness gives you a choice. You may need brighter light for certain purposes for shorter periods of time or maybe general purpose lighting for longer lasting light.
The brighter light setting provides about 12 hours of light (that illuminates clearly up to 10 meters), and the lower brightness setting provides light for about 20 hours (illuminating up to 5 meters). You can choose either setting quickly with the flip of a switch.
To fully charge the PEACELight will take approximately six or seven hours in the sun, and there's a hand crank for emergencies.
For one hour of light using the hand crank, just spin the handle for five minutes at about 120 RPM. Something the kids can easily do.
You can use the sturdy base to set it on a flat surface, or hang it high using the handle at the top of the lantern.
The PEACELight is designed with 36 LED and has an operating life up to 100,000 hours.
That's a long time!
Doing the math, if this light were to be used 24/7/365, it could produce clean, safe light for more than 10 years with proper care.
It's made using a strong plastic exterior and a chrome HD wire, so it can take getting frequently moved around from place to place.
Here's a tip.
Because the PEACELight doesn't produce a lot of heat, it can be covered with a clear plastic bag (for added protection) and hung outside in the rain if needed.
PEACELight Model PL2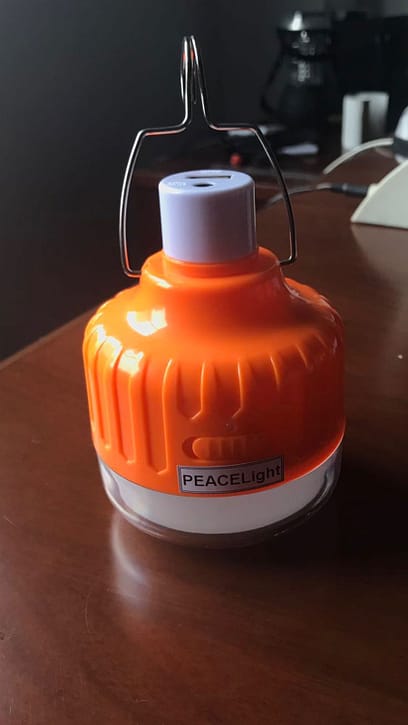 The PL2 modal is suggested for general lighting purposes like for a home on a frequent basis.
Use the handy built-in hook to hang the light overhead and watch it light up the room from corner to corner.
This is the solar lamp we suggest for children when they are doing their homework at night.
With 120 lumens shining down from overhead, it's perfect for preventing eyestrain when reading and studying.
Conservatively speaking, a 12 hour solar charge will give eight hours of light.
However, our tests in the field have been producing about 10 hours of light on a 10 hour solar charge due to the high-quality battery (Li-ion 2500mAh 3.7V).
The free-standing solar panel is easy to position to face the sun and connects to the PL2 model with a removable electrical cord (included).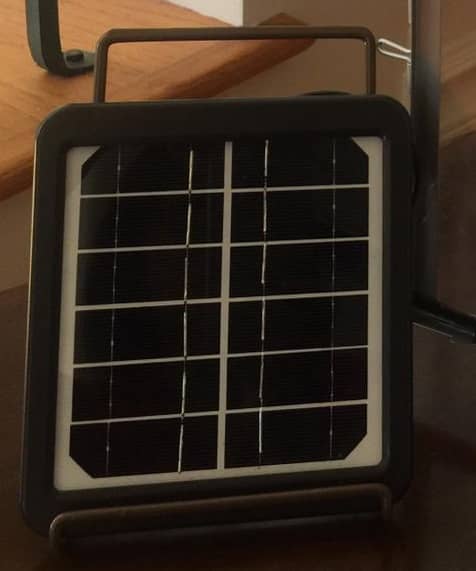 Like the PL1 model, the PL2 uses strong materials for the casing to make this a tough, durable solar lamp that should last for many years with reasonable care.
The Economics Of The PEACELight
You'll find similar solar lanterns to the PL1 online for upwards of $26. But that's if you buy them in the USA.
If you try to get the same solar light in Africa, or many other countries around the world, the price would be considerably higher.
The PL2 model is made exclusively for Affordable Human Needs, so you won't find the exact same solar lamp anywhere else.
Both PEACELight models are affordably priced at just $15.
The price and quality combine to give you the best value possible for a solar light that can do everything that the PEACELights can do.
At $15 per solar PEACELight, you'll be able to help about twice as many families get clean, safe lighting for the same dollar spent!
Doing a little more math, let's dig a little deeper into the economics of the PEACELight.
Let's say a family lights up their home every night for five years.
At $15 that's $3 per year OR just 25 cents per month!
That's a lot less than kerosene, which can cost $2 – $3 per week in some parts of Africa.
Some research tells us that kerosene for lighting alone can cost poor families 20%, or more, of their total income.
With proper care the PEACELights should last well beyond five years, so the numbers above are very conservative.
And if you are donating a PEACELight, then you're blessing a family with free lighting for many years to come.
The PEACELight can be shipped anywhere in the world. So, you can help people wherever there's a need for clean, safe lighting.
IMPORTANT NOTE
Our cost of $15 per PEACELight is FOB AHN factory.
Any additional cost such as shipping or an import tax or fee will be the responsibility of the purchaser of the PEACELight, not AHN.
Here's Your Next Step To Helping Provide Clean, Safe Solar Powered Lighting Anywhere In The World
You can contact an Affordable Human Needs representative by using the form on the Contact page.